Last week, Meg started going to
Ruff'n It Dog Day Camp
. With the snow, ice, short days and no classes to go to, Meg has been getting a bit bored. I hoped Day Camp would give her exercise, socialization and help her gain more confidence.
On Tuesday, I went in to drop off her paperwork and I brought Meg so she could meet Dan (who runs the place) and sniff around a bit. Dan seems to really understand dogs and Border Collies. Meg sniffed him and then ignored him and he knew enough to take that as her acceptance of him and not try to pet her any further (which would have made Meg nervous).
On Wednesday morning, I dropped Meg off for her first day at camp. Dan said she did great and got along with all the other dogs. I watched her on the web cams from home. She quickly made friends with a boxer and a collie and hung out with them for most of the day.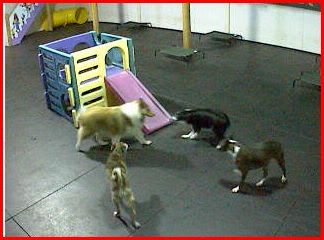 When I picked her up in the afternoon, Dan gave me a set of pictures to commemorate her first day. So cute!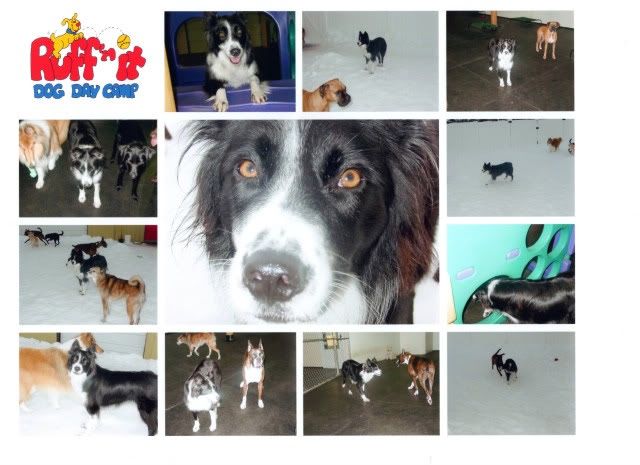 She went again for a half day on Thursday, where she made more friends and played with Jace, the German Shepherd who lives down the street from us.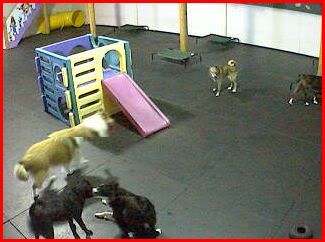 She went back this week and met even more dogs. Dan said she spent a lot of time playing. She even met her 'mini me', a dog about half her size with similar markings. They followed each other around and played together for most of the day.